"Once in a while it really hits people that they don't have to
experience the world in the way they have been told to."
-Alan Keightley
Down to the last drop
It requires a paying job to pay my bills and get through life, but most of the time I wonder what it would be like to not be faced with walking into a job full of greed. I am now searching for a job position in the non-profit sector, I have a feeling that is the perfect field for me.
LIFE IS POETRY-Zen Habits
My life is my message.' - Gandhi
Each of us lives a life that expresses who we are, reacts to the world around us, shows our passions, reflects our deep river of feeling and being.
We might sing out in joy, through our words and actions and expressions, we might hide in fear and pain, we might lash out in anger. Every thing we do, everything we are, expresses.
Gandhi's message was his life, and yours is your life. What message are you giving the world, through your actions, how you live, how you treat others, what you accomplish, how you choose to be, every moment of every day?
Are you an angry rant? A ballad? An epic poem?
Perhaps a sonnet, a limerick, a haiku?
If your life is a poem, what do you want it to say? What would you rather leave out? What will the essence be?
Enjoy each moment as the perfect syllable, recognize the lyrical in the everyday, and sink your teeth softly into that cold delicious fruit.
—
This Is Just To Say
by William Carlos Williams
I have eaten
the plums
that were in
the icebox
and which
you were probably
saving
for breakfast
Forgive me
they were delicious
so sweet
and so cold
—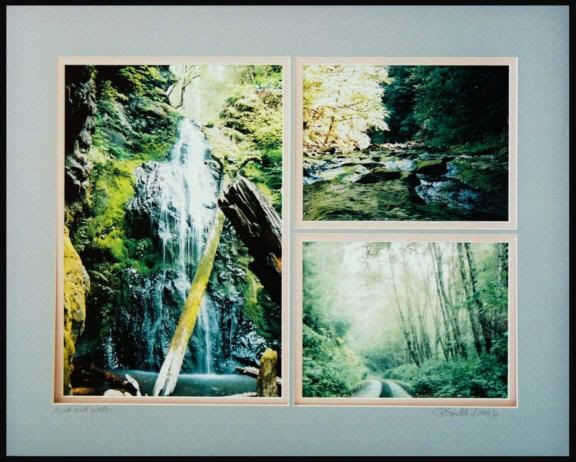 Living is an art. The way we lead our lives is an expression of the way we feel about life. In the beginning, Nature provides us with the necessary materials; it is then up to each of us as individuals to give substance and color to the work.

Composition and matting by Kim R. Smith; photos by Patti A. Smith
"Your time is limited, so don't waste it living someone else's life. Don't be trapped by dogma - which is living with the results of other people's thinking. Don't let the noise of other's opinions drown out your own inner voice. And most important, have the courage to follow your heart and intuition. They somehow already know what you truly want to become. Everything else is secondary." - Steve Jobs
Currently showing my support for :
Get involved, join a cause!
This band sends a great message with awesome music- I will be doing an
article featuring an interview with Daniel : here's a little foreword from the site :
Don't Ever Speak. That is exactly what we are taught to do. Never question. Never think. Never challenge. We line up and carry out our same routines day after day without looking ahead to the unavoidable and undeniable consequences. Day in and day out we drag the stones that build our cultural empire, then retreat from our cubicles to our suburban prison cells to pacify ourselves in the fantasy lands of glowing screens.
This cycle will continue...until we walk away.
Be advised...this music is not for the complacent.